Personalized graphics sets for restaurant layouts

In the Benny Family Tradition:
Restaurant Layouts
Since 1960, the master roasters at Benny & Co. have made rotisserie chicken their specialty. This popular restaurant chain has been on a mission to offer the best chicken there is and live up to its clients' expectations. With a unique fast-casual dining concept, the managers at Benny & Co. want the restaurants' layout to reflect the company values. When it comes to layout and signage projects for multiple locations, Optimum Graphiques plays a fundamental part in achieving the expected outcomes.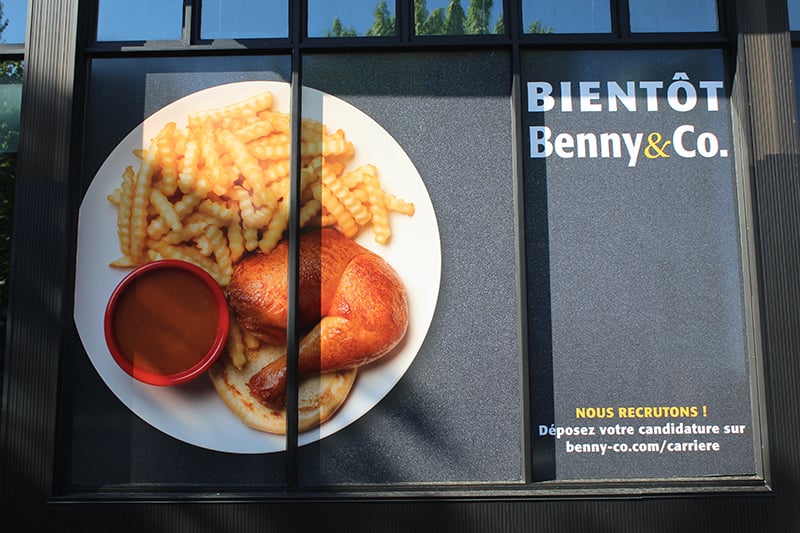 Their 
O
bjectives
Create graphic elements to dress up all

Benny & Co.

restaurant locations.

  

Ensure printed material consistency based on each location's specifications.

 

Have all printed material installed on schedule.

  

Get advice and guidance regarding materials and display options.
Our 

G

enius at work
At Benny & Co., fundamental values like product quality, customer satisfaction, family and authenticity are also reflected in each restaurant's layout. Throughout the whole project, Optimum Graphiques made all the printed material, like vinyl cut-outs, pictograms, acrylic lettering, murals, 3D cut-outs, window dressing, banners, and more. Together, the graphic elements embellish the restaurants and create a warm, family atmosphere in a relaxed setting.
By producing all the material under one roof, Optimum Graphiques is able to ensure consistency across Benny & Co.'s restaurant chain while also adapting the product formats to meet each location's technical specifications. The OG team also offers installation services for the graphic elements in all locations in Quebec and Ontario.
By choosing Optimum Graphiques, the master roasters found not only a service provider for their large format printing needs, but also an experienced team to partner with for their layout and signage projects. We provide Benny et Co. with turnkey services.

"With all the changes that come up during the construction and setting up of our new locations, we know that we can count on Optimum Graphiques to turn on a dime and deliver the layout and decorations on schedule. Optimum is a great partner to grow with."