Event ambiance & sponsor visibility
55e Final of the Quebec Games:
Fundraising Event
As the host of the 2020 Quebec Games, Laval is ready to welcome some 3300 young athletes. The City is on a mission to make the 55th Final of the Quebec Games a success. The organizers want to put together a flagship event that will serve as a reference for sports events, increase the region's profile and help future athletes reach unmatched levels of performance.
As proud official large format partner of the Quebec Games for Laval 2020, Optimum Graphiques has been given the responsibility of providing all printed display material for the event and related activities. First up for the OG team was the fundraising event, which was organized by the Games Organizing Committee.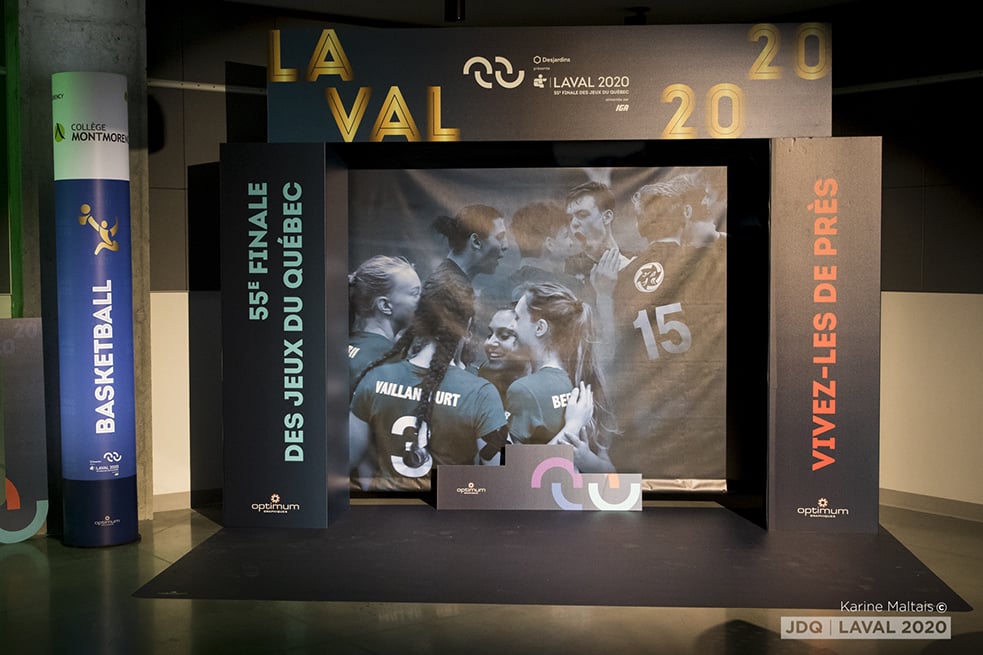 Their 
O
bjectives
Raise funds for the Quebec Games – Laval 2020.

Give great visibility to the sponsors of the event.

  

Create an ambiance conducive to networking.

Receive all the printed material for the Quebec Games – Laval 2020.

 
Our 

G

enius at work
The fundraising event was targeted to members of the Laval business community. The price of a ticket included the financial contribution, a networking cocktail, and a show.
To highlight the sponsors' contribution, the OG team came up with illuminated displays in the form of cylindrical columns. They chose a material called Translucent Styrene for its ability to be both stiff and flexible, and the fact that light can get through it, which makes it a smart choice for backlit solutions. Each column showcased a sponsor and a particular sport. This was a great way to recognize the sponsors' support and to feature all the sports that will be present during the event. Moreover, the lighting provided by the columns contributed to the ambiance of the evening.
The OG team was asked to create a decorative, dynamic structure for the fundraiser, so they came up with a Quebec Games – Laval 2020 themed photo booth. To make the experience more immersive, they designed 3D elements like a giant picture frame and a simulated podium for medal ceremonies. Participants could create fun memories and take part in the frenzy in anticipation of the sporting event.
Because of the pandemic, the Quebec Games – Laval 2020 have been postponed until July 2022. The OG team looks forward to continuing its work on the display projects and is happy to contribute to the success of this important event.

"It's always a pleasure to work with the Optimum team: a professional, creative and dedicated group with the ability to quickly and expertly deliver projects, not to mention how pleasant it is to interact with them! They will satisfy your needs by suggesting accessible solutions that go beyond your expectations, every time. Thanks to the whole team!"