Special Projects
A ONE-NIGHT IMMERSIVE SPACE EXPERIENCE
The Cosmodome is a science museum where visitors can see exhibits and take part in educational activities to learn about space and space exploration. Wanting to inspire a passion in youngsters for space sciences, the Cosmodome created a Foundation to help children who are underprivileged or facing hardships. For its annual benefit, the Foundation asked Optimum Graphiques to come up with an original way to dress up the venue with graphics that would make for a memorable evening for the guests and give great visibility to its sponsors, thus offering a new twist on the fundraising concept.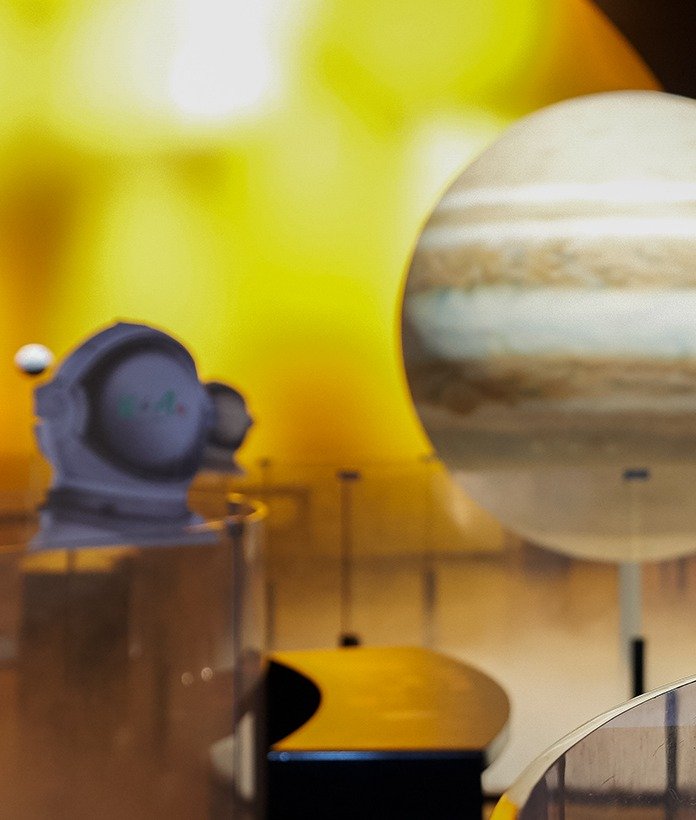 Their 
O
bjectives
Find an original way to raise funds for the Foundation.

Give great visibility to the sponsors.

Dress up the venue with stunning visual elements.

Set up a photo booth for guests to get a souvenir photo.
Our 

G

enius work
To meet the Foundation's expectations, Optimum Graphiques created and delivered a whole concept, from graphic design to installation, with design elements to liven up the evening and highlight the sponsors' contribution.
First, the OG team came up with the idea to decorate the venue with life-size astronauts. These astronauts were also used to give visibility to the evening's donors. Major sponsors could have their own astronaut printed and personalized with their company's colours. This option helped raise even more money for the Foundation (and even get new sponsors), as companies really took to the concept. This was a great way for guests to enjoy the evening and create some fun memories, while getting to know the benefit's sponsors, who got to go home with their tailor-made astronauts. This was a win-win for the Foundation, who maintained some post-event visibility with the astronauts on display in the sponsors' places of business.
The other option that enhanced the sponsors' visibility was the display on the astronaut helmets. We used robotic cutting to make astronaut helmets out of gator board. To stay with the theme, they were held by a metal bracket set right against the museum glass, in the planets section.
Because it's a great way to capture the moment, create delightful memories AND tie-in to any ongoing promotion, the OG team designed a space-shuttle themed photo booth. With its 90-degree angle, the photo booth could accommodate shelves to set the astronaut helmets. During the photo shoot, the guests could have some fun with the helmets and make the experience even more immersive. The challenge was to create a structure with specific dimensions so that it could be stored, and to use the right materials to also make it reusable. The Cosmodome wanted to be able to reuse the photo booth for its camps for children.
All the visual elements allowed guests to feel like kids again for the evening!

"The OG team was there to see the whole project through, always bringing ideas to the next level. They were outstanding in their creativity, their understanding of our needs and their capacity to find alternatives for our unique projects… For a client, these are very reassuring skills. It's a genuine delight to entrust them with our projects, because the results are, each time, above and beyond our expectations!"